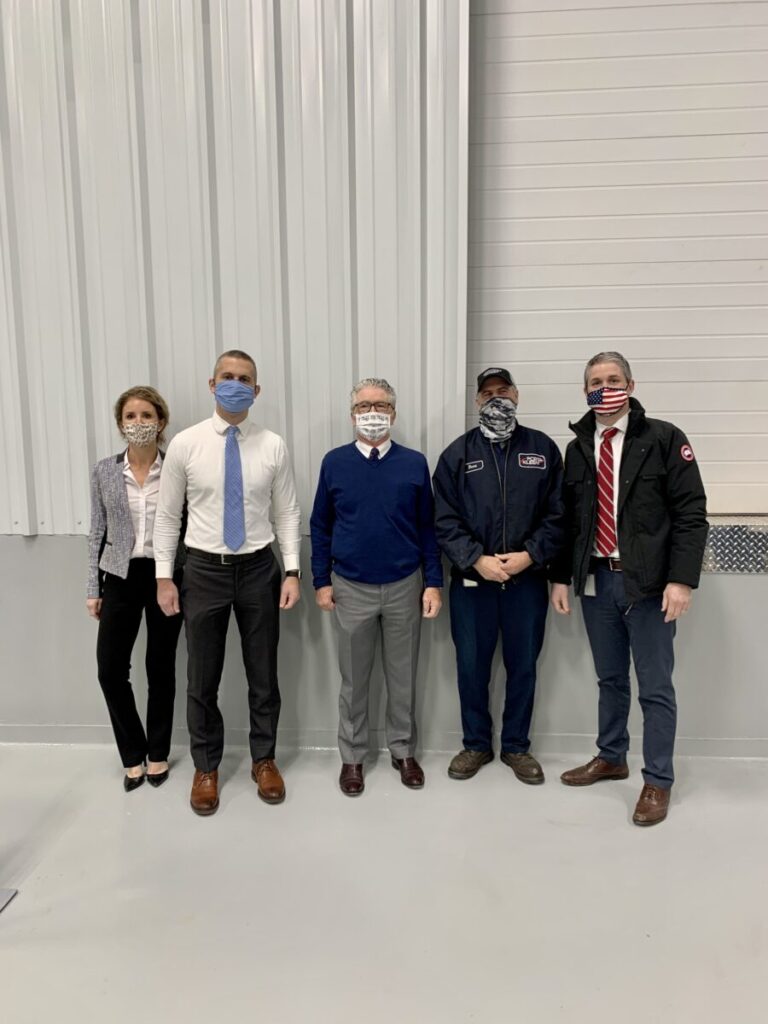 To honor 32 years of integrity, hard work and dedication, MPW/Porta Kleen awarded Dave Sayre with its 2019 Salaried Employee of the Year Award. Sayre becomes the first Porta Kleen employee to win the accolade.
The event and announcement were delayed due to COVID-19, but Porta Kleen hosted a scaled-back, safe celebration for Sayre and his family at its Corporate Headquarters in Lancaster, Ohio on February 10.
Originally hired as a Maintenance Supervisor for MPW in 1989, Sayre accepted the position of Maintenance Director for Porta Kleen in 2000.
"Dave has played an instrumental role in the overall success of Porta Kleen, and we would not be where we are today without him," said Porta Kleen President Adam Black.
Sayre family attendees — including Dave's son Mathew, who is a Grounds & Maintenance Associate for MPW in Hebron — numbered about a dozen. Also in attendance were Monte Black, Adam Black, Jared Black, Kristen Black and Curt Ruff.
Sayre said he did not know he was going to be honored when he showed up at the event.
"At first, I had no idea what was going on," he said. "Adam and Monte both spoke, and Adam put together a presentation. I didn't know what it was all about until Adam came out and said it. To be chosen is unbelievable. It was emotional having my wife there with my kids and other family members.
"It was humbling, and I was honored that the Black family was there. And Curt being there was important because he was a mentor to me for many years."
It was Ruff, who retired at the end of 2020 after 37 years with MPW, who hired Sayre in 1989.
"I grew up with Kevin Bruns, and he got me an interview with Curt. I started with field work for about a year, then worked in the warehouse department for about six months. I moved to the maintenance department in 1991 and there was no turning back for me."
Sayre said accepting the Maintenance Director position (after some coaxing by Ruff and Monte Black) and then launching PK's maintenance department in 2000 is one of the most gratifying accomplishments of his career.
"For a while I was the only mechanic there and I oversaw all the trucks," Sayre said. "Now, to see how far we've come as a business is really rewarding. Since Adam's been here it's been amazing to see what's transpired, with the introduction of the PKX division and getting this new Lancaster building ready."
Sayre said 2019, when he managed both maintenance and fabrication/repairs for PK, was another fulfilling, yet challenging time, with long hours due to the company's booming business.
"Dave's performance was excellent, handling multiple duties when we were that busy," said Adam Black. "His commitment is a big reason he won the award."
Sayre said the PK President's business skills are reminiscent of Monte Black's.
"Adam is really driven to make sure the business thrives. He's the spitting image of his father in how he's motivated and how he's deeply involved in the business, so I was thrilled to receive the award from both of them. I think the entire Black family does a tremendous job. We all have our families and then we have our work families — I'm honored to be a part of this work family."
Previous Salaried Employees of the Year
2008 John Cihon
2009 Brent Hamilton
2010 Shane DeFazio
2012 Justin Pierce
2013 Moe (Gary) Berger
2014 Duane Jolliff
2015 Wendy Carter
2016 Dustin Kieber
2017 Ronnie Price