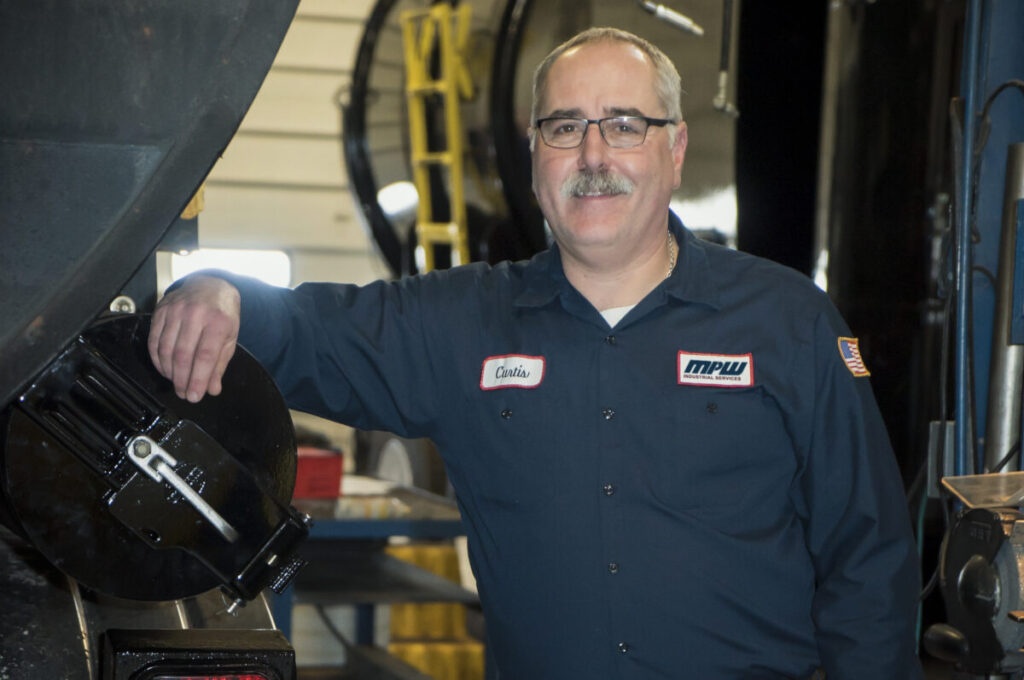 In 1983, Ronald Reagan was president, the Broadway show "Annie" ended a long run, Michael Jackson "moonwalked" for the first time and the Washington "Redskins" won the Super Bowl. And a skinny kid from Fairfield Union High School began a career with a little-known Central Ohio company.
And what a career it was. Spanning 37 years, Curt Ruff has been instrumental in helping transform Central Ohio Mobile Power Wash into MPW, one of the great American success stories in serving Industrial America.
Founder and CEO Monte Black originally recruited Curt from Fairfield Union High School's welding and diesel vocational program in 1983.
"Curt is one of our founding fathers," Monte said. "We spent a lot of hours together and always seemed to work out of the same playbook. Curt and a few others, like Dave Brown, Mike McGonagle, Rod Nieser and Tony Donnadio, to name just a few, helped build this company over a lot of years with their passion, dedication and commitment.
"Our MPW culture has always embraced going the extra mile, and I appreciate the hard work that everyone puts in today," said Monte. "But it was a different era then. In the early days, the organization was smaller, and we all wore a lot of different hats, working long hours, holidays, multiple jobs. That commitment, always embraced by Curt, helped set the course for our future."
Curt started working nights at Central Ohio Mobile Power Wash (the precursor to what is now MPW) as a senior in high school.
"I would go to school in the morning, get all my classes in and then I would work from about 3 p.m. to 11 p.m. for a few months until I graduated," he said. "Then I started full time. Mike McGonagle is the one who interviewed me. I started as his fabricator. Essentially, I grew up on a farm and my dad was in trucking, so I came in with mechanical knowledge."
Curt, who was promoted to Maintenance Director in 1988, has seen the maintenance department grow considerably.
"When I started there were only a few of us, but we continued to grow and at one point I oversaw maintenance, fabrication, paint and body and buildings and grounds," Curt said. "One of our strengths is we don't just maintain by basic service, because Monte built the company with an emphasis on doing as much as possible in-house. We're actually building trucks, which is much more involved. Rebuilding components creates opportunities for people to become experts in specific equipment.
"AT MPW people are given opportunities to take on added responsibilities, so MPW's fabrication and maintenance people are not just mechanics or welders, they have broad skill sets," Curt said.
An Early Commitment to Safety
Monte said a focus on safety stands out among Ruff's multitude of career accomplishments.
"Curt was continually driving safety on our equipment by making sure we had handrails and safety steps on our trucks and trailers. His department was always operating safely. From the beginning, we built things with safety and ergonomics in mind. This was even before we had an engineering department. Our competitors weren't doing that. We owe a lot of our success to Curt," Monte said.
Mike McGonagle, now a Project Manager for MPW's Industrial Water Division and a 41-year employee, said attention to detail is one of Ruff's top skills.
"Curt's a very detailed individual," Mike said. "He's amazing. A big part of his job is to make trips to our branch locations to perform audits to make sure that every location maintains the same standards that we developed at our corporate headquarters. He picks up on things that aren't right. He's meticulous and has a great eye. He only knows one way of doing things and that's the right way.
"Another of Curt's strengths is locating and purchasing items like trucks, trailers and specialty equipment. I've always admired that skill. Even when I need something personally, he's always been able to find it. He's persistent and has great mechanical skills, so he knows what he's looking for."
Curt said successful family-owned companies have advantages over organizations that are more corporate controlled.
Curt added, "The thing about working for a family-owned company is we can respond quicker because we don't have to deal with as much red tape. It's fun to be part of that process and to see the company be so successful. There's never a dull moment."
Ruff said Monte and Jared Black have been helping him plan the post-Ruff transition.
"About a year ago I told Jared that I wanted to retire at the end of 2020," he said. "Jonathan Holbrook will take over as Maintenance Manager for ICG. Kyle Tyson will assume my engineering work. Dimitri Buys will be in charge of purchasing for the Maintenance Department and John Echols will support employee management."
Ruff said his retirement plans first focus on family, which includes his wife of 37 years Lisa, a retired schoolteacher, and his daughter and future son-in-law.
"In addition, I still have a farm, so I'll probably spend more time there, he said. "I'm also involved in another business. My wife says I burn the candle at both ends."
The side business is Outback Furnaces Inc., which sells and installs outdoor wood-burning furnaces. Curt's partner in that venture: McGonagle.
"People use our furnaces to heat their homes or sometimes things like swimming pools," Curt said. "The beauty is you keep the dust and smoke outside."
Curt said the people he associated with over the past 37 years will always be remembered and are large part of his life. "We forged a great camaraderie in helping to build MPW," he said.
"When you grow up in the organization the way I have and Dave Brown and Mike and others have, you get a truly different perspective. You get to reflect on the hard challenges and long hour and the good times, too. I would not change any of it. Has it been the easiest path? No, but it's been the most rewarding. I owe my career to Monte believing in me. I was definitely in the right place at the right time."
Beyond his significant day-to-day contributions, Curt also played a key role in the creation and development of MiraMonte Ranch, a hunting ranch for employees and customers in Norwood, Colorado.
"He and I designed it on a napkin," Monte said. "Although Curt's retiring from MPW, I'm happy that I'll still see him. He'll continue to be involved with the ranch and customer entertainment."
Curt said a main reason both he and the company have been successful is Monte's continuous reinvestment in the company.
"Ever since I've been here, there's been a commitment to provide a better workplace for employees," Curt said. "The standards Monte expects create a different work environment than what our competitors provide. I think people generally prefer working in cleaner, well-cared-for environments. MPW wouldn't be what it is today without that level of commitment from the top."
Monte said that just because this chapter of Curt's life is closing, their relationship is far from over. "Curt will forever be a part of MPW, and our friendship will never end. I guess that's part of the spirit of family that is MPW," said Monte.
"It's exciting to see Curt moving on and spending more time on things he's passionate about, like family, farming, hunting and antiques, but it will be different without him here. While we will certainly miss Curt, we will be forever grateful for his decades of service and his many contributions."
Curt Ruff Career
Mechanic 1983-1986
Mechanic Journeyman 1986-1987
Mechanic Supervisor 1987
Maintenance Superintendent1988 Maintenance Director1988-2020