MPW Industrial Services celebrated the grand opening of its Technology Center July 19 at MPW's 46-acre campus in Hebron. The 86,000-square-foot facility was designed to house MPW's growing Engineering, Fabrication and IT teams.
"In 2010, our IT department consisted of just six team members," said MPW IT Director Tony Miller. "Today we've grown to over 30 team members and we're still growing at a rapid pace to keep up with the demands of the business."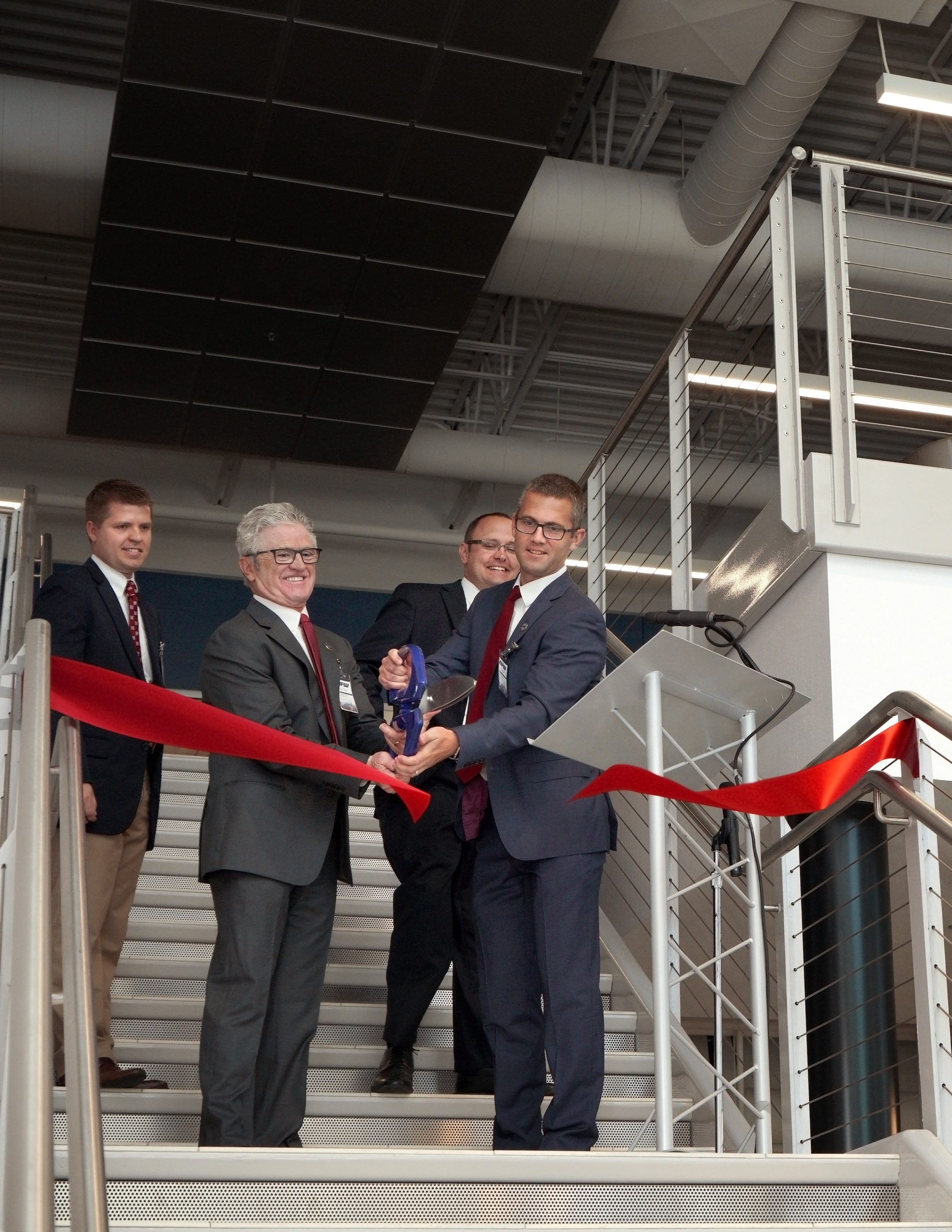 MPW founder and CEO Monte Black said the company entered into an agreement with the state of Ohio to add 25 technical jobs in Hebron by the end of 2017.
"True to form, we under-promised and over-delivered," said Black. "We have already added 50 technical jobs at this location."
Offices comprise nearly 40 percent of the available space within the new center. The combined office area, built to house the Engineering and IT departments, features 82 cubicles, 34 offices and 12 conference rooms.
"As far as the planning and design of the Tech Center, our primary focus was creating work areas that promoted efficiency, collaboration and innovation," Miller said.
Engineering shares the first floor with the IT Helpdesk, while the IT Department's offices cover much of the second floor. The corporate offices of MPW's Industrial Water Division, along with the division's Dispatch Center, are also located on the second floor.
The office space on both the first and second floors features 15 wireless access points, four phone booths, four workplace collaboration spaces, 25 TVs and an exercise room.
The Technology Center also features a Fabrication Shop, which serves as a manufacturing hub for MPW's industrial water equipment. MPW builds mobile equipment including reverse osmosis (RO) and ultrafiltration (UF) trailers in the new fabrication shop.
All control panels used in automated tools, from tube lancing machines to robotic blasters, are manufactured at the new center. Several prominent features of the shop include four saw stations, seven assembly stations, stainless steel welding stations and high-density polyethylene welding equipment.
"The Tech Center instills pride in everything we do and it represents the hard work and passion we provide our customers every day," said Jared Black, president of MPW.
Justin Pierce, MPW's Director of Engineering & Fabrication, agreed.
"The Tech Center has been a great morale booster for everyone that has had the opportunity to work here," said Pierce. "It's become a symbol of the growth of the business, and has given our employees a sense of accomplishment as it was built on the backs of their efforts."
To accommodate the steady activity at this high-tech assembly space, the shop has a shipping and receiving dock, a grand door for outside inventory and 13 trailer docks.
"This campus is a tribute to all the men and women of MPW who get up and work every day with passion, dedication and commitment to make us what we are today," Monte Black said.
Click here to watch an aerial time lapse of the Tech Center's construction.