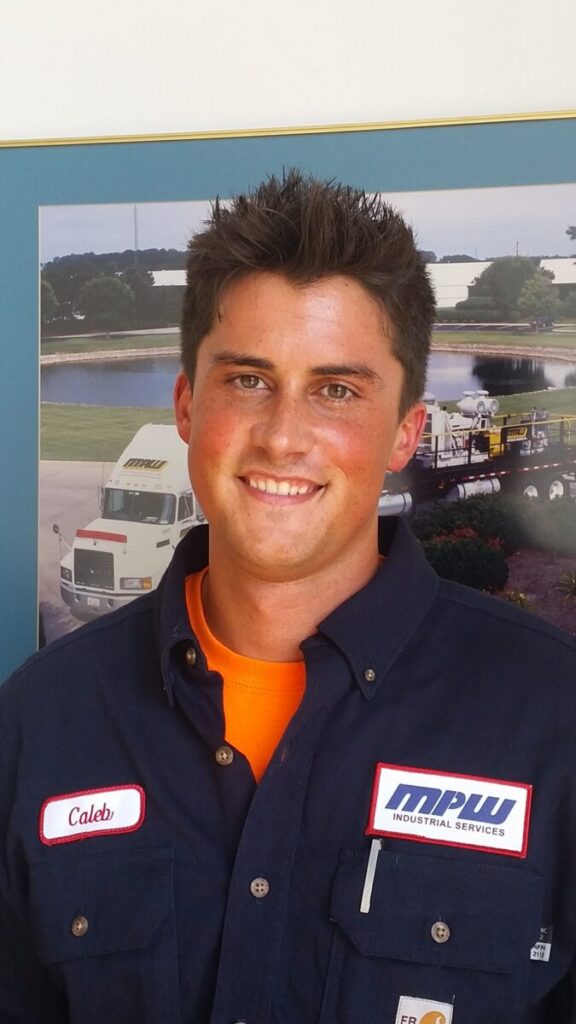 It was late 2017, and Caleb Brown – then, MPW's Indianapolis Branch Manager – had no idea he'd receive the company's Salesperson of the Year Award for work he'd perform only a little more than one year later.
The company made the pandemic-delayed announcement of Brown's achievement in March and is planning an event to honor Brown in April.
ICG Sales Director Mike McDevitt said Brown's background in operations allowed him to establish relationships he could build upon when he became an Area Sales Manager in January 2018.
"Before joining the sales team, Caleb had a good understanding of our work," McDevitt said "He's detail-oriented, has a good work ethic and is great with follow-up. He is outstanding at using his contacts and his operations experience to further develop his skill set."
Brown said his operations background has served as the cornerstone of his sales success.
"The experience allows me to know what goals are realistic and to put together bids with accurate timelines and pricing," he said. "Knowing firsthand the perspective that someone in operations has – the focus on both safety and performance – has been invaluable to me in sales."
Brown said his top accomplishment in 2019 was his work with North American Stainless (NAS).
"In 2019 we substantially increased our work at North American Stainless, and that helped us land a 2020 contract," he said. "Persistence was the key. We carved out a niche there and immediately started developing inroads and building relationships. Word got around quickly in the plant that MPW did great work."
McDevitt said Brown's relationships with both clients and co-workers allowed the company to pair industrial cleaning with environmental services in the NAS contract, with the help of John Critzer, MPW'sDirector of Operations, Environmental.
"Caleb's an extremely effective communicator with internal as well as external customers," McDevitt said. "He's a good example for salespeople. His ability to determine an objective before making a call is outstanding. Ultimately, he always has MPW's interests in mind while still checking all the boxes of what customers are looking for."
The Salesperson of the Year Award was not the first time MPW recognized Brown's accomplishments. In January 2021, ICG restructured its use of Regional Sales Managers (RSMs), naming Brown and Gary Babaryk to the positions.
"Before this year, regional managers didn't have territories," McDevitt said. "But in speaking with IW Sales Director Brad Tolbert, we learned that our industrial water counterparts had been able to handle regional management while still being accountable for a territory. It was working well for them, so we set up a similar system for ICG. We've seen initial success with regional managers giving additional attention to customers and sharing best practices with the sales team."
Brown said the increased exchange of information among members of the sales team is one of the positive outcomes of the new RSM structure.
"Hearing about the successes and shortfalls of others helps newer ASMs feel like they're not starting from square one," he said. "It's a great experience working with ASMs Chris Laros and Solomon Sparling."
Brown said expanded communication via phone and virtual meetings helped him mitigate the unique challenge of the pandemic. However, it was not the only major obstacle he's managed recently.
"In 2019 my girlfriend Carly Barrett was diagnosed with stage 4 colon cancer. I genuinely appreciate all the kind words and prayers from the MPW family. The experience gave me an even greater appreciation for every opportunity that I've been given throughout my career.
"Carly is doing much better now with treatments and tests, and even though there's still a journey ahead, we've really appreciated the Spirit of Family MPW has shown us."
Caleb Brown Career
Management Trainee, Rockport 2014-2015 
Account Manager, Indianapolis 2015-2016
Branch Manager, Indianapolis 2016-2018
Area Sales Manager 2018-2021
Regional Sales Manager 2021-Current
Previous Salespeople of the Year
2010 Mark Bornhoft
2011 Greg Armstrong
2012 Mark Bornhoft
2013 Mark Bornhoft
2014 Rod Reston
2015 Darci Huth
2016 David Slipko
2017 Gary Babaryk
2018 Mike Romano