"I'm always impressed with Gary's business acumen, professionalism and loyalty. The way he presents himself, whether it's to co-workers or to a customer. His follow-up is impeccable. His creative and collaborative negotiating skills are outstanding. Also, I know I can trust him to work autonomously and with integrity."
– Mike Sokol
When asked how he was able to earn MPW's 2017 Salesperson of the Year Award, Gary Babaryk gave a humble answer.
"In this industry, I can't think of a better position to be in," he said. "I'm working for the best company with the best people and the best resources. This company is always thinking about sales and providing its people with the assets they need to be successful. It all makes my job easier. I'm so grateful for this award."
Babaryk, who started with MPW as a Sales/Marketing Trainee 9 years ago, was promoted to ICG Area Sales Manager 4 months later. His territory includes most of Southern Ohio and the western part of West Virginia.
ICG Sales Director Mike Sokol said Babaryk does a terrific job of utilizing his resources.
"He's demonstrated tremendous creativity in identifying customer problems and offering solutions," Sokol said. "And he has a knack for internal networking, which means he knows the right MPW people to involve in every aspect of his projects."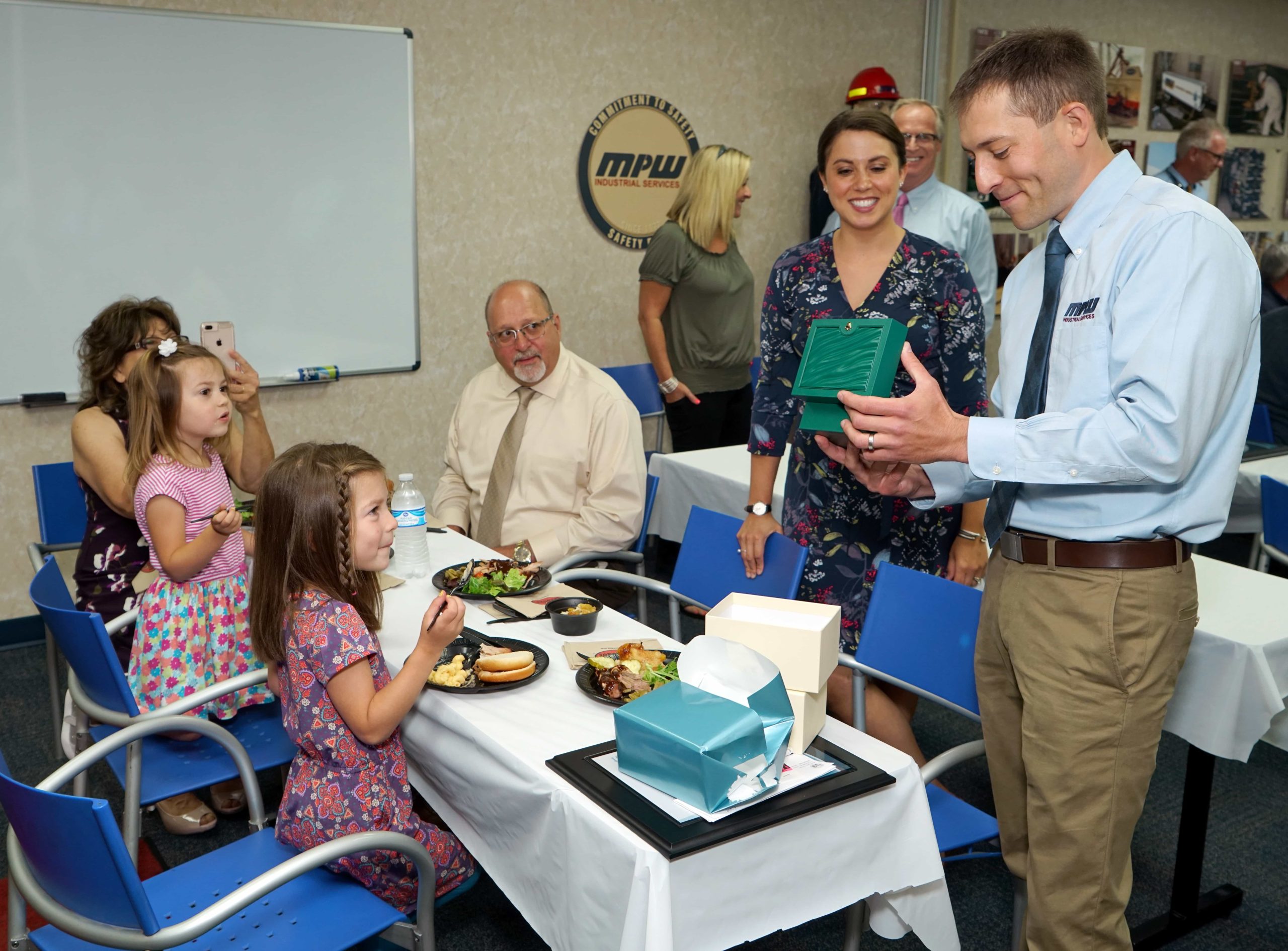 Babaryk's resourcefulness has paid off.
• In 2017, he grew his book of business by nearly 20 percent (compared to 2016).
• In the last five years (cumulative), he exceeded 110 percent to plan.
• He managed double-digit growth in three of the last five years.
• Based on his 2018 sales pace, he has grown his territory's revenue more than 160 percent since the end of 2012.
Babaryk credits much of this success to strategic patience.
"I'm always focused on the long term," he said. "My targets tend to be larger opportunities but a longer sales cycle. You can find success by staying the course and doing the right things. Typically, I've been able to land large accounts gradually, then I've been able to build around those clients."
One of those accounts is the Constellium aluminum-manufacturing facility in Ravenswood, W.Va. After more than 2 years of meetings and planning, Babaryk finalized a contract for industrial cleaning services that commenced this year.
"Gary's skilled at being persistent without being a pain to the customer," Sokol said. "The Constellium account is a good example of that. It's been an enormous success for MPW."
Babaryk credited this success to the MPW personnel and other assets available to the MPW sales teams.
"MPW has so many knowledgeable people from the Operations teams to Account Managers all the way up to Monte [Black] and Jared [Black] who are willing to help us," he said. "Then there is the website, cut sheets, videos and presentations for clients. And this [Hebron] campus is impressive to customers when they visit."
Babaryk said he has benefitted from the tactic of broadening his sales prospects.
"I have important customers like Constellium, Kraton (polymer production) and Axiall (chlorovinyl and aromatic manufacturing). I've focused on diversifying the types of customers I target. I've done this by networking. A lot of my contacts know people at other plants and they help me get in to see them. You have to be persistent and focus on meeting new people. Eventually you will get an opportunity."
Babaryk received his award June 25 in Hebron as part of a surprise ceremony that included Sokol, several members of MPW's Executive Committee and Babaryk's parents, wife and children.
"Initially I was surprised," Babaryk said. "It was cool that MPW made my family part of it. It was a day I'll never forget."
Previous MPW Salespeople of the Year
2010 Mark Bornhoft
2011 Greg Armstrong
2012 Mark Bornhoft
2013 Mark Bornhoft
2014 Rod Reston
2015 Darci Huth
2016 David Slipko