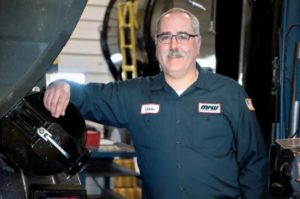 As part of our regular staff spotlight series, we recently caught up with Curt Ruff, Corporate Director of Maintenance at MPW Industrial Services. In March 2018, Curt will celebrate 35 years with the company, working his way up from a welder to a member of our corporate leadership team. Today, we're highlighting his many contributions to MPW with a look back at where it all began.
Where did you get your start?
I was recruited by Monte Black himself in 1982. Although at separate times, we both attended the same high school where I had been training to become a welder in a vocational program at the time, and was excited for an opportunity to train on the job. My dad was in trucking for over 35 years, so at an early age I worked on trucks and farm equipment, which is what got me interested in welding and maintenance. I started as a part-time employee at MPW while still attending school and became full time once I graduated and moved up through the ranks over time.
Could you tell us a little more about your background?
I grew up in Rushville, Ohio – it's a small town about 30 miles south of MPW's Hebron headquarters.
I started out as a welder and a fabricator in the early '80s and then migrated to the Maintenance Department. For a brief period, I worked in our Newark facility – we had just started our Industrial Water plant there and was asked to help in building the plant and equipment at that location. I worked there for a couple of years and in 1987 I was approached by Mr. Black and given the opportunity to take over as Maintenance Director for the company. I've been in that role ever since.
What's changed at MPW since you first started?
Well, when I started there were less than 100 employees and a small fleet of vehicles. Today, MPW has more than 3,000 employees and 2,000 pieces of equipment in over 50 locations across the United States and Canada! Our crews and mobile fleets are deployed to job sites all over the country.
My role has changed since I first started as Director of Maintenance as well. On a daily basis, I help oversee all of MPW's maintenance assets whether that's advising on a customer project or managing the operations of the facilities themselves. I have about 30 team members in my department in our corporate offices, but I also help manage the 80-plus maintenance employees in our other locations. It's a lot of responsibility, but I've come to appreciate the growth we've been able to achieve as a company and the opportunity that has brought for my own personal career.
How do you see the company progressing in the years to come?
I think with the investment the Black family continues to make in the business, we're well-positioned to take over a lot more market share and will continue to maintain our image as a cutting-edge solutions provider in the industry. Unlike most of our competitors that are publicly owned, MPW is backed by personal interests, which is very different. Throughout the years, the Black family has invested in three main areas – people, equipment and technology – and that combination has been a real recipe for success.
What is your favorite part about your job?
I suppose it's different coming from someone who has been here 35 years, but I guess it's the relationships I've built and the people I get to work with every day. You're never on an island at this company – it's very much a team-oriented environment. And great teams make it easy to come to work every day.
What do you like to do outside of MPW?
I grew up on a farm and my grandfather had a large dairy farm in the Rushville, Ohio area – I never let that leave my heritage. My wife is a first-grade school teacher and I today, own a small farm where I have a herd of Angus cows and she has her goats! I work on the farm primarily for stress relief – it's calming for me. I'm one of those people that's always thinking about work and farming is the one thing that gives my mind a break.
Why would someone want to work at MPW?
This is an easy one. I'm probably one of MPW's biggest recruiters because I've been here since near the very beginning and have seen the evolution of the company.
I try to tell people that this is not just a job – it's a career path and a lifestyle. Leaders at the company are more than happy to provide guidance at all levels of growth because they truly believe that every employee is incredibly valuable.
Look at me, I had the opportunity to advance in my career several times during my first 10 years here and today I'm lucky enough to be a core member of the leadership team – I can't imagine working anywhere else.
For more information on our career opportunities, click here.