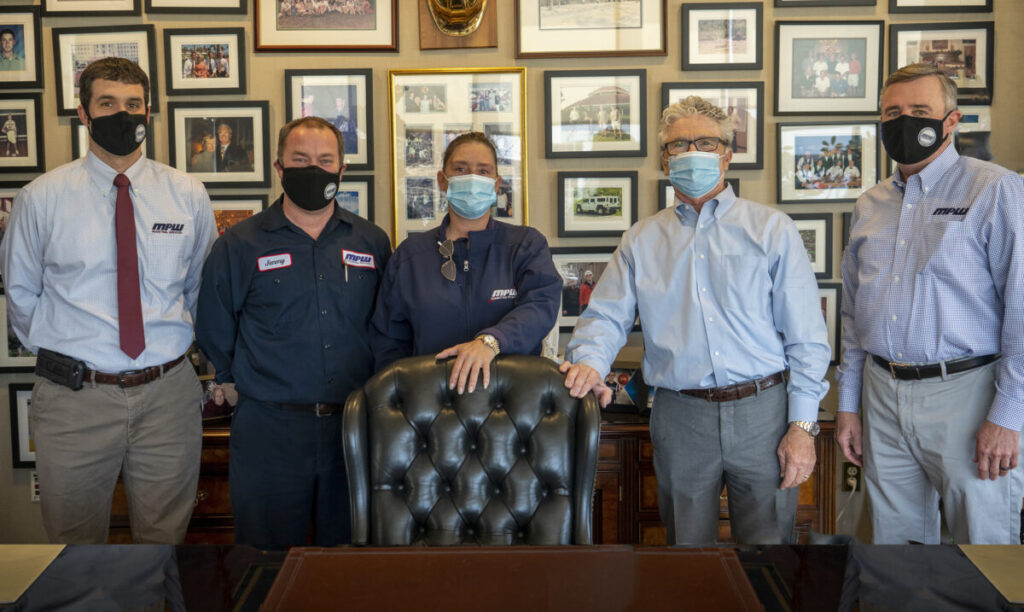 2019 was a year of awards for Melody Hatfield.
First, Hatfield, an MPW Supervisor at DuPont Circleville (Ohio) Works, was honored with an Excellence in Service Award from the plant for her team's work during a Fall shutdown.
Then, in March of 2021, MPW announced Hatfield won the company's 2019 Hourly Employee of the Year Award. MPW celebrated the pandemic-delayed award in Hebron on March 12.
MPW's Midwest District Manager Steve Runyon said Hatfield is the face of MPW at DuPont.
"She just excels at building relationships," he said. "She's taken her supervisor role above and beyond what's expected. When DuPont calls, they don't want to talk to me or to any other manager, they want to talk to Mel."
Hebron Branch Manager Kale Holbrook said Hatfield's award from DuPont went a long way toward earning her MPW honor.
"DuPont actually called us to thank us for her team's safety performance and the quality of its work," Holbrook said. "That speaks volumes about what she's done in growing those customer relationships. She's always there and we know we can count on her."
Hatfield said her customer service philosophy is to give DuPont the highest possible quality of work on every project her team completes. This certainly applied to the client's 2019 Fall shutdown.
"It was scheduled to take up to two weeks, but we finished four days early with no safety incidents," Hatfield said. "It was a lot of work with a small crew in full chem suits, cleaning sludge out of storage tanks. There was a great deal of power washing and a lot of lancing involved. It was hard work, and I was proud of how well we performed. I just take pride in making people at the plant happy."
Holbrook, who also worked at DuPont earlier in his MPW career, said time spent as a technician can be extremely valuable to managers.
"It's especially important when the individual has a willingness to learn, then applies that knowledge as a supervisor," he said. "Melody's done that very well. Also, her effort level is outstanding. It's great to work with her because all you have to do is give her a chance and she'll figure everything out."
Hatfield, who has the rare perspective of having worked mostly at DuPont over the past 13 years, said there has been one main change to MPW's work during that span that has stood out to her.
"The major thing is the increase in our use of automation," she said. "Our automated tools and engineered equipment make our jobs safer and less strenuous."
Runyon said automation, coupled with the resolve of leaders like Hatfield, has helped MPW establish an impressive record of safety and quality at DuPont Circleville.
"Our safety record there is as good as anywhere," he said. "We've avoided serious injuries. It's a stable account and the customer appreciates us enough to give awards to our employees. We're extremely proud of Melody and her team's work."
Hatfield said winning MPW's award was overwhelming.
"I was really happy to win it with all the time and effort I've put in," she said. "But I couldn't have earned the award without the crew. A lot of our team members came in fresh in 2019 and they all learned quickly and did an excellent job."
Melody Hatfield Career
Technician, Chillicothe 2008-2012
Crew Leader, Chillicothe 2012-2014
Supervisor, Chillicothe 2014- Current
Previous Hourly Employees of the Year
2014 Larry Lee
2015 Dana Tyree
2016 Brandon Bruns
2017 Chris Decanio
2018 Gibby Smith