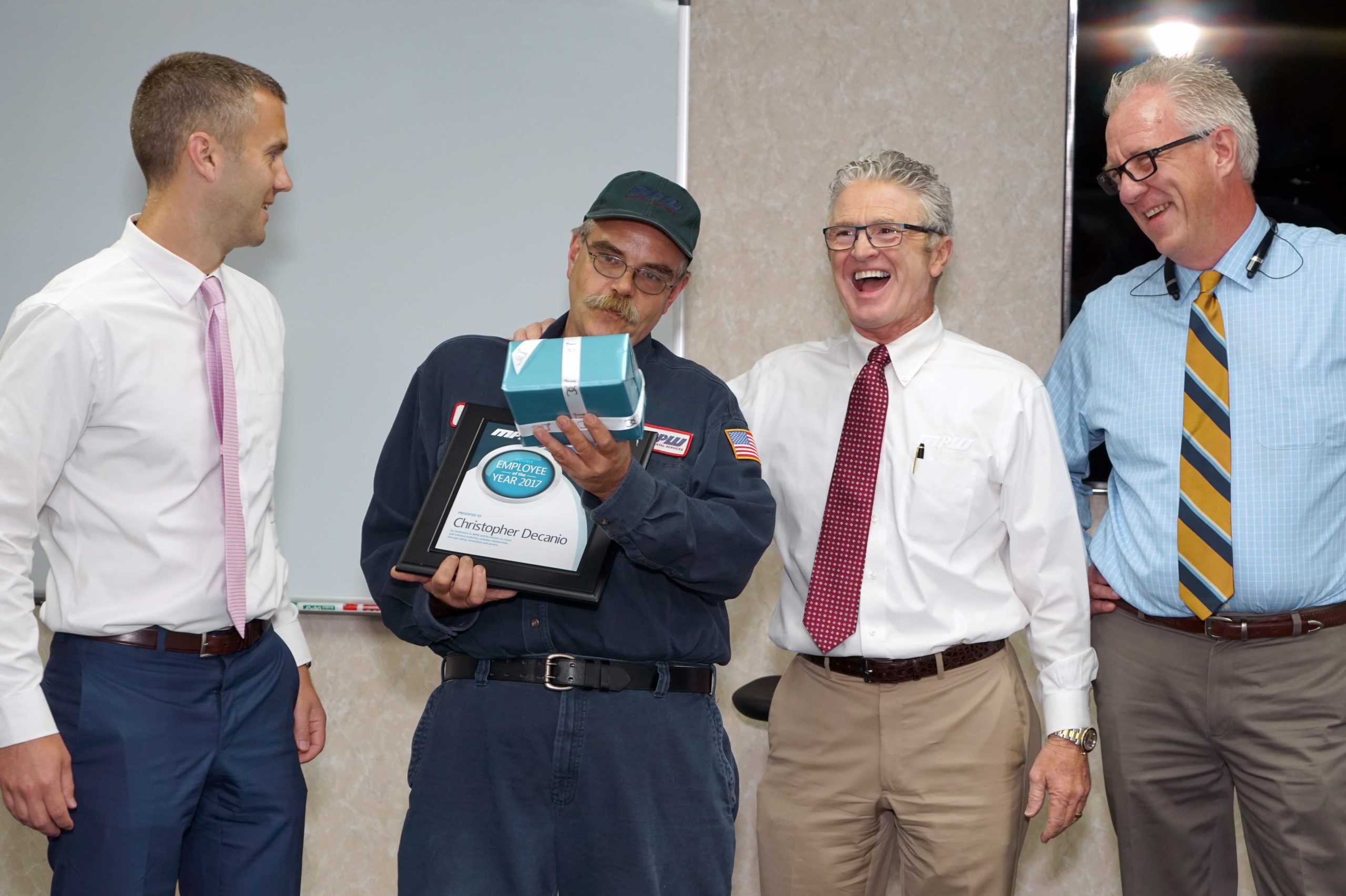 "Chris is safety-focused and he knows how to get the most out of people. He's very loyal and dependable."
– Moe Berger
People who work with Chris Decanio never seem to run out of flattering things to say about his effort. The word heroic has even been used.
Effort and industry knowledge are two significant reasons why MPW named Decanio — a Supervisor for MPW's team at FirstEnergy's Bruce Mansfield Power Plant in Monaca, Pa. — its 2017 Hourly Employee of the Year.
"Chris does an outstanding job for us at Bruce Mansfield. There was a serious incident there in August of 2017 and Chris played a leadership role in preventing it from being even worse," said MPW District Manager Mike Nicholson. Nicholson said Decanio came to MPW in 2015 after a strong referral from FirstEnergy.
"Plant personnel were adamant about having him back," Nicholson said. "He had lots of experience there with another contractor."
Decanio was promoted from Field Technician to Crew Leader at the end of 2015, then to Supervisor in March of 2018. Due to his skill level and operational experience, he specializes in cleaning projects in the plant's Scrubber Area.
"He leads very difficult projects for us, like the cleaning of fans with 40k blasters," said MPW Operations Manager Gary "Moe" Berger. "There's often a time crunch. When we brought Chris on he immediately made us better in the Scrubber Area. He knows all the tricks. He's also very well-liked by plant personnel for his work in the lime area."
Decanio became MPW's second Employee of the Year from the Steubenville, Ohio branch after Berger earned the honor for his 2013 performance. (MPW began honoring both hourly and salaried employees for the year 2014.) Decanio said the awards reflect well on the Steubenville team's industry knowledge and commitment to safety. Berger agreed.
"It must mean something when two people from not just the same district [Northeast], but from the same branch, win Employee of the Year," Berger said. "I'm sure there are a lot of others at MPW who are also deserving, so it says a lot for Steubenville."
Nicholson said he's proud of the district's recent accomplishments, which also include two national safety awards and MPW's 2016 Green Hat for Safety Award.
"Our people are very safety conscious and I think we're also very focused on customer relations," Nicholson said. "And Chris is an outstanding example of that. The Employee of the Year couldn't have gone to a better guy."
Decanio received his award June 25 in Hebron as part of a surprise ceremony that included Nicholson, Berger and several members of MPW's Executive Committee.
"I was surprised. I didn't expect to get an award or anything like that," Decanio said. "They told me to come to the Corporate Campus to meet with some engineers and talk about our automated tooling. I still met with them, but I think the award was the real reason for my trip."
Decanio said it felt great to be acknowledged by a company that has consistently provided whatever resources his team has needed.
"It's an honor working here," he said. "I enjoy this type of work and I really like the people I work with."
Previous MPW Hourly Employees of the Year
2014 Larry Lee
2015 Dana Tyree
2016 Brandon Bruns