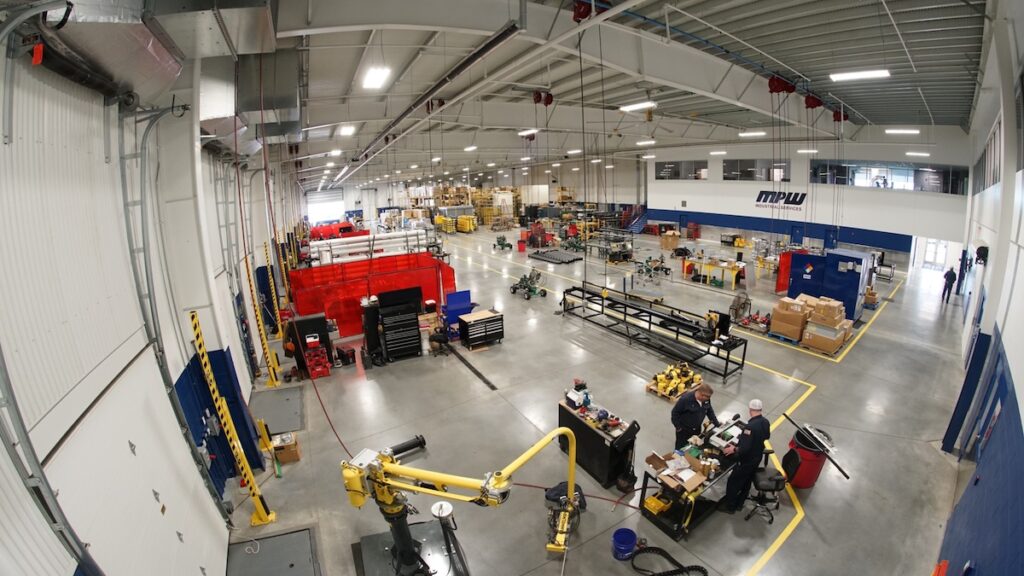 Since Day One, MPW has made its own destiny, and its own equipment. There are many reasons why we've been successful over the years—our people, our passion, our willingness to get up and go the extra mile—and we've fabricated in-house since business began in 1972.
MPW built its own equipment because the gear that was available all had standardized water pressure and almost no volume. It wasn't capable of cleaning everything we wanted it to clean, from trucks to heavy equipment, power plants, steel mills and all industrial jobs. We needed equipment we could take into industrial sites to tackle cleaning coal bins, deslagging boilers, and anything else the customer asked us to do.
We looked for every possible advantage over our competitors, so we built equipment with more pressure, temperature and volume than theirs, allowing us to do the job better and faster. And, we could fabricate it with specific capabilities to meet all our customers' needs. As an entrepreneur, Monte's mission was always to beat the competition. In-house fabrication gave us the upper hand.
We began with building our own wash trucks, which led to building vac trucks, water blasters and trailers for industrial cleaning. As we grew, we fabricated whatever we needed to get the job done.
MPW was always an aggressive company and our equipment was on the leading edge. Our first fabricator was Ted Nieser, a very talented mechanic and welder who was instrumental in starting our in-house fabrication group. After Ted retired, his son, Rod, took over fabrication with his brothers, Rob and Randy.
When Rod began, there were only three fabricators. With such a small crew, each fabricator was highly skilled. The fabrication shop added several machines, so crews no longer had to wait on vendors and others to supply parts or do other work.
"It all changed when we did that," Rod Nieser said. He said we performed general fabrication and maintenance on all the equipment, built aluminum bases for fiberglass DI vessels and all the internals in the tanks.
Our tools steadily improved. Today, we have a CNC mill and lathe, a plasma table for cutting parts, a press brake for forming metal and a shear for shearing plates to correct dimensions. We also have a CNC router table for plastic and aluminum, and a plate roll for rolling any round cylinder for tanks and filter vessels along with an angle and channel rolling machine.
At one point, the fabrication department was running three shifts with a crew of 15. Now we have nearly 60 fabricators. Director of Engineering Justin Pierce leads a talented and creative engineering team that uses the latest technology to continually increase our capabilities. Our engineering team helps our fabricators create the tools and equipment necessary to meet and exceed customer expectations.
Much of the fabrication staff has been with us for more than 21 years. Initially, the fabrication shop was a 12,000 square feet facility. In 2009, we added another 12,000 square feet of fabrication space. Fabrication's growth continued when we built the new 76,000 square foot technology center in 2015.
Roughly 37,000 square feet of the technology center is devoted to fabrication, including docks to accommodate Industrial Water trailer production and an assembly area to free up space in the fabrication building. The docks create additional floor space for the fabrication crew.
"We really deal with emergency response," Pierce said. "We have to be able to act quickly. Sometimes there really isn't an option to buy something off the shelf."
Expanding our capabilities, we are beginning to fabricate parts and equipment for external customers, such as Kenworth, Toyota, AEP, Kraton, AK and Stanley Steemer, just to name a few. "We don't want to rely on outsourcing," Pierce said. "Fabrication gives us more ownership."
Our fabrication department constantly identifies operations that are currently being outsourced or completed off campus and works to figure out how to bring them in-house. For instance, there are fittings MPW can produce for less than half the cost of purchasing them from a vendor. "We're always changing; we're always adding equipment and technology," Pierce said.
"We're looking to expand resources and for more opportunities for the shop to grow," Pierce said. It's always a matter of doing a cost benefit analysis. Occasionally, there are items where it's more economical to buy than to produce them. "But, if we can, we're going to try to do it ourselves," he said.
"There is very little we outsource today," said Fabrication Production Manager Brandon Hale. "It's also bringing more jobs into the community." He said in-house fabrication helps the company control lead-in times and quality. In-house fabrication also controls cost.
For example, Hale said MPW used to purchase steel tanks externally. The tank manufacturer folded but was re-purchased. The new owners wanted to charge MPW twice the amount per tank as the previous owner. That's when we began to make our own tanks.
Hale, who's been with the company 21 years, said we fabricate roughly 90 percent of our equipment. "Half of the ten percent we don't fabricate is simply because we can't get to it," he said. Hale predicts a day when our facilities and personnel will increase to where we can fabricate nearly everything in-house.
Hale encouraged all employees to tour our fabrication facility to see everything that happens every day. "Everybody who has taken a tour is wowed," he said. "What we didn't do yesterday, we do today."
President Jared Black said he expects us to continue to expand in-house fabrication services through additional machinery and automation. It could also be advantageous to de-centralize and add a second fabrication shop.
Black would also like to see us increase fabrication for external companies. "People have a need," he said, "Especially in the business we're in." He said we provide high-level service to an industry that can be very specialized. Eventually, Black said he would like to see us offer 3D printing services.
"Fabrication has always been a big-time competitive advantage," Black said. He said companies come to us with problems and not only do we provide customized solutions, but our equipment is more reliable than our competitors.
Black said our Ultra Filtration Reverse Osmosis system was particularly impressive, as was the staff's ability to do HDPE plumbing, versus the traditional fragile PVC plumbing. "Everyone worked together to become experts," he said.
Black said the automated robotic blast booth system we recently created for Toyota is yet another achievement. "It way exceeded my expectations," he said. "The bigger the problem, the more that our people jump in."
Black said our creations are designed with Safety First. "It's a big component of how we design our systems," he said, with advanced robotics as an example. We were also awarded a design patent (soon to receive a utility patent) for a fully double-contained chemical injection system.
Director of Safety Matt Dawson said fabrication poses unique safety risks from welding hazards to flying metal shavings. "And, they have to ensure what they fabricated is sufficiently strong to withstand the pressure applied to it," he said.
Dawson said it's important for MPW to hire trained and qualified people into these skilled trade positions to mitigate risks. There are also specific classes to review safety for various jobs.
"My goal has always been to insource as much work as possible," Monte said. We started with wash trucks, vac trucks and then mobile ROs, followed by shower trailers and all the parts that go into the equipment. The list is endless.
"This gives the entire team, from fabricators, to operators and the support staffs the pride of developing and building equipment that exceeds our customers' expectations," Monte said. "I've often said, people would ask us if we ever thought we would be successful, and I often told them, we didn't know we couldn't be."