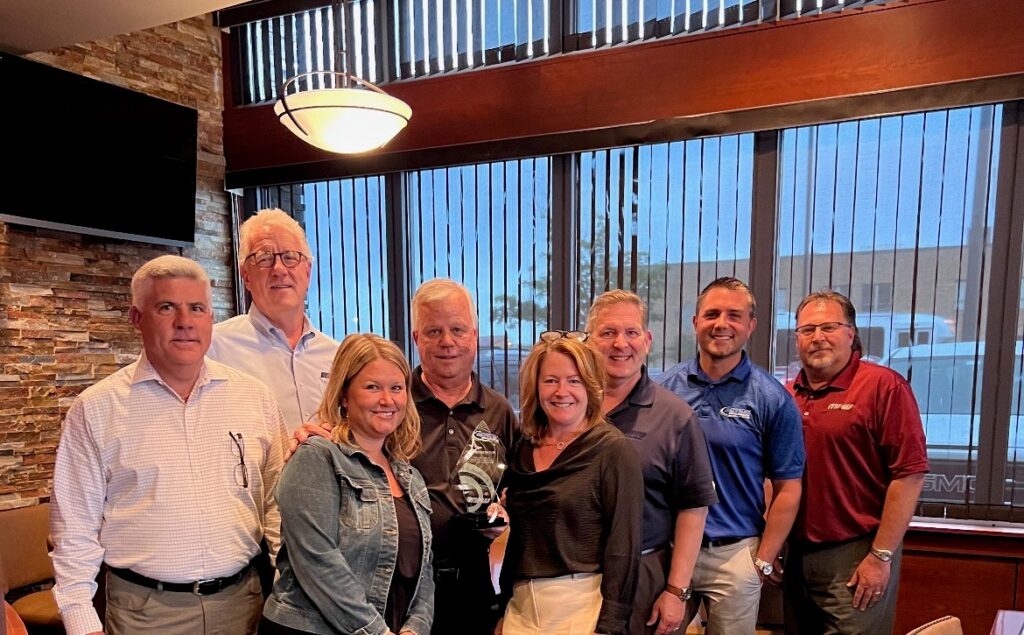 MPW Industrial Services awarded the 2020 Supplier of the Year Award to Action Supply Products, Inc. The pandemic delayed the July 6, 2022 presentation award event, which took place at Ditka's Restaurant in Pittsburgh, Pennsylvania. Action Supply previously won the award in 2018.
Action Supply Products, Inc. is headquartered in Coraopolis, Pennsylvania with additional facilities in Newark, Ohio and Gastonia, North Carolina. It specializes in providing personal protective equipment (PPE) and industrial supply items. Action Supply is a second generation, woman-owned, family run business in its 39th year of operation.
"During the pandemic, Action Supply worked tirelessly to make sure that we had product so we could remain operational, as well as a number of our customers," said Director of Procurement Bill Boring. "They told us that we needed to start buying PPE and other supplies ahead of the pandemic because access was about to become limited. Literally three months before the pandemic impacted the U.S. we were buying extra supplies. They are a good source of information for us."
Senior Buyer Mike Mautz said Action Supply Products Sales Representative Bill Martini warned MPW procurement that the pandemic was coming. "It was in February that Bill Martini said they were starting to see a limited supply of N-95 masks because they were all manufactured in China," Mautz said. "All shipments from China were being canceled."
This was particularly bad news because MPW has a strong need for masks and other PPE, pandemic or not. "Action Supply was able to set an allotment back for us," Mautz said. "They only sold to existing customers. They could have quadrupled their price, or even more than that, and sold it, because they had people who wanted it and were willing to pay anything for it. But, they held it just for customers like us."
"We never once had a shut-down or an outage because of a lack of materials. We were also able to provide some of these N-95 masks to our larger customers. So, that was a big win for us in the eyes of our customers," Mautz said.
"Action Supply will never, ever leave you stranded. They will find some solution," Boring said. He said Action Supply and MPW have similar philosophies because Action Supply is a family-owned business just like MPW. "In fact, their second generation is starting to take over now. The family members are engaged in the day-to-day business," he said.
Boring said Action Supply addresses the existing supply-chain challenges by finding alternate sources for materials. "So, if we need something that has a long lead time or is back ordered, they'll go out and pull from their sources," he said. "It may not be a manufacturer that we would routinely purchase from, but it's an equivalent product and it's readily available."
Boring said Action Supply is willing to take on that responsibility for MPW when other suppliers would
simply say the product is back-ordered and wish MPW luck in finding something else. "That sets them apart," he said.
"Our company culture is built upon family, respect and honesty, and we extend these values to our entire team and customers alike," said Action Supply Products President Don Fink. "Winning the award from MPW is very rewarding, especially in 2020 when we were having unprecedented challenges in every aspect of our business. We truly appreciate the longstanding (20-plus years) partnership between MPW and Action Supply."