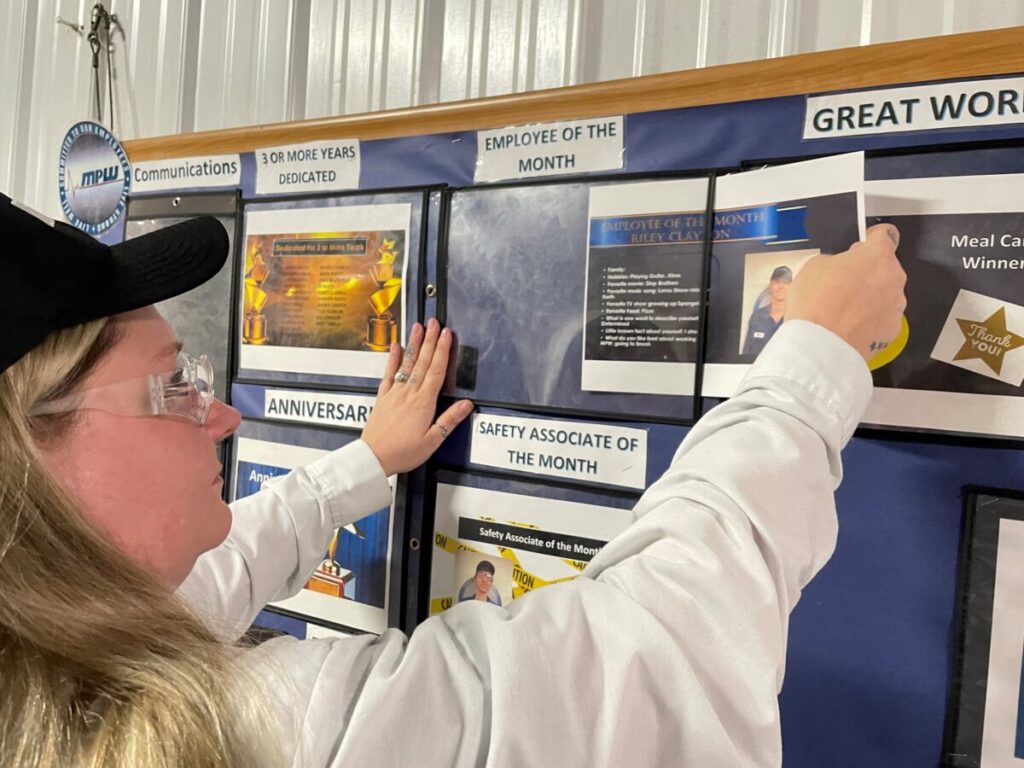 The MPW Honda Indiana team's recruitment through retention program is a complete success. "We've been fully staffed since February of last year," said Honda Indiana Account Manager Tonya Precht. She said optimal headcount is 88 MPW associates. Generally, the MPW department retains 95 to 100 associates, including floaters.
"We carry floaters to cover for absenteeism and LOAs. It helps us cover the lines with the right number of people," Precht said. "If we come in with a full shift and we have an extra person or two, then we can take volunteers to go home. We call it 'no points or penalties.' They don't get paid, but they can go home with a free day off without getting penalized with the points. That helps with morale, too. People like a day off."
Last year, the MPW Honda Indiana crew introduced a plan to retain the associates they have on staff through recognition for hard work, incentives, willingness to be accommodating and truly listening to the associates' needs and concerns—word got around.
"Our associates like their jobs, so they spread the word to people they know who need jobs and bring them in," said Operations Manager Rebecca Cabell. She said associates will contact the managers, requesting staff positions for family members and friends. The request is sent directly to Recruiter Teresa Fyfe if there's an opening. "So, I think by word of mouth from our associates liking their job, it helps us keep people coming in," she said. "We have people waiting."
Gift cards are extremely popular with associates. "We purchase $5 café cards that can be used in the cafeterias or vending machines," Precht said. These are given to associates for birthdays and work anniversaries. Each supervisor is also given 2-3 per week to reward associates doing exceptional work.
Every other week, $15 restaurant cards are available to associates who have performed above and beyond their duties, such as helping with off-shifts. "If an associate receives an award from Honda called an ARP or RAM award, then Honda gives them a certificate and a Honda promotional item. These awards were designed for Honda associates, so if an MPW associate receives one then we want to make sure we show our appreciation." Precht said. "We want to say thank you for being an outstanding MPW associate and for being recognized by our customer. We give them a $50 Visa gift card and present it pre-shift during the toolbox talk."
"I recognize people who are going out of their way to help Honda out. They don't think that I know, but I know that they're doing extra work," said Operations Manager Ricky Couch. "It's shown on a TV monitor out there so everybody gets to know they're recognized. I think it's a good thing."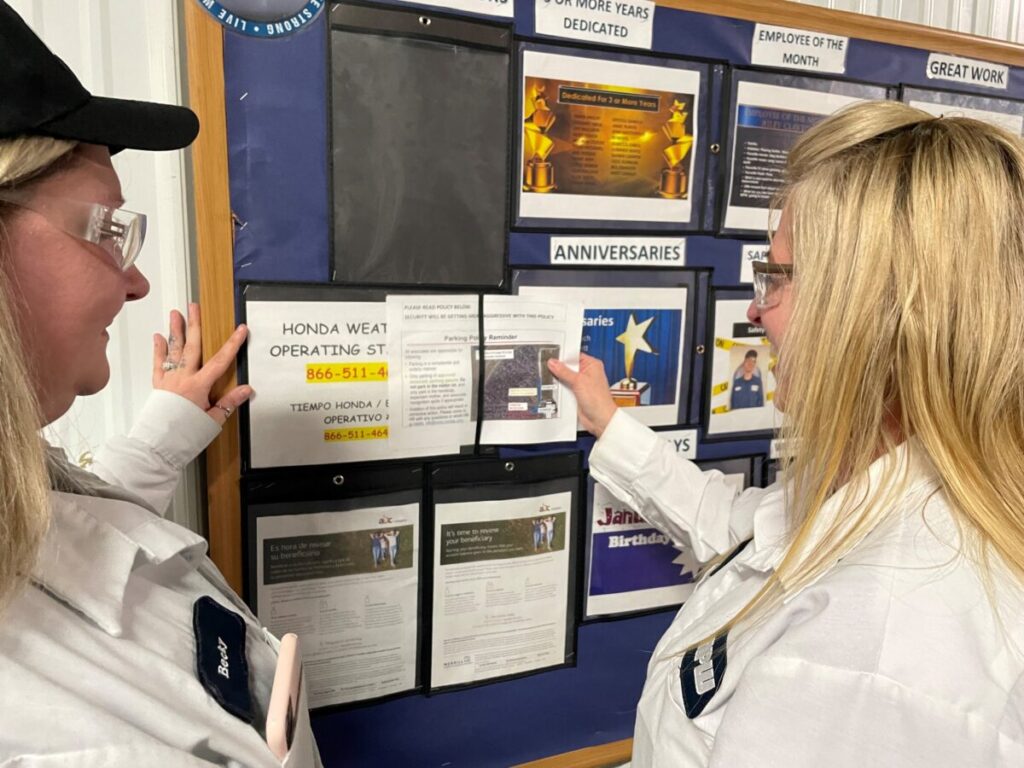 The TV monitor displays pictures of every associate, project before and after pictures, awards presented—such as the Honda associate recognitions—recruiter and HR manager pictures, names and phone numbers, HR hotline information, birthdays and anniversaries for the month and motivational quotes among other things.
Precht said there is also a small thumbtack board for important or urgent information such as Honda non-production days, Honda's winter weather number and job posting sign-ups. The board displays items requiring daily viewing by all associates.
Precht said when associates leave, they often soon return. "It seems like we get a lot of rehires," she said. "They leave for another job but then return because they realize we appreciated them and work with our associates."
Part of working with associates is assuring them that if they do experience a personal crisis, they don't need to lose their jobs because of it. "Our supervisors have gotten really good at monitoring absenteeism. If an associate is calling off frequently, they get a hold of that person and discuss a leave of absence," Precht said. "We have a few people who have an intermittent leave of absence for health issues or something, and it really helps because they thought they had no options."
It's important for the associates to know they can approach management with any issues they have. "We keep it confidential and if it's something we can work with, we work with it," Precht said. She said if associates are going to be gone for a long period of time, they understand they will technically be terminated, but the associates are encouraged to contact management as soon as they are available for rehire.
"We have people who will get sick or have health issues, or maybe a relative or kid has health issues and they don't understand that there are leave options out there for associates," Precht said. "You don't have to quit your job; you don't have to get fired from your job. There are tools out there and we work with people for that."