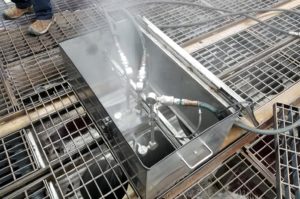 A heavy- and medium-duty commercial truck manufacturer in Ohio sought to optimize the cleaning of its towveyor chain, which functions like a conveyor to transport vehicle parts throughout the plant.
Because of the 1,800-foot chain's tremendous heft, plant personnel cleaned it only once per year. Moving the chain into position for cleaning required 20 employees and a forklift. After the chain was reinstalled, four motor drives throughout the plant needed to be synched. The entire process took two full days to complete.
Solution
Instead of bringing the chain to the cleaning equipment, MPW brought the cleaning equipment to the chain. MPW designed and built a custom chain-cleaning box and installed it directly into the paint booth. Once in position, the cleaning box is pumped with water at 10,000 psi to produce a thorough clean along the entire length of the chain.
MPW designed, fabricated, and implemented this automated, hands-free solution over a two-month span.
Results
After implementing the custom solution, MPW now cleans the chain once per month. Despite cleaning the chain 12 times more often, the labor cost is just a fraction of what it was previously; only two technicians operate the cleaning box and the new process lasts approximately four hours.
MPW's innovative technology saves the client $16,000 in labor costs per cleaning and increases plant efficiency to such an extent that the client produces at least one additional truck per month.