Two PKX operators' fast action and skillful vacuuming literally saved a man from being buried alive at a job site. In early February, PKX operators Scott Cooper and Jacob Glenn were digging about 25 feet away from a large trench at a construction site in Columbus. The long trench, which was dug and maintained by another excavation company, was only half-protected from a cave-in by a trench box that holds the walls in place.
A worker, only identified as "Paul," from the site's excavating company entered the trench from the end that wasn't protected, and the walls collapsed on him. "I looked down and saw the gentleman down in the hole buried up to his neck," Cooper said. "His right arm and shoulders were the only things exposed. That's when we knew we had to start sucking some dirt away from his back."
The excavating company brought in a backhoe to move dirt away from Paul, but soon discovered the pressure from the backhoe would cause further injury. Cooper and Glenn backed their vac truck into position and began vacuuming dirt away from Paul's back. A water blaster was also used to carve up large debris that fell into the trench.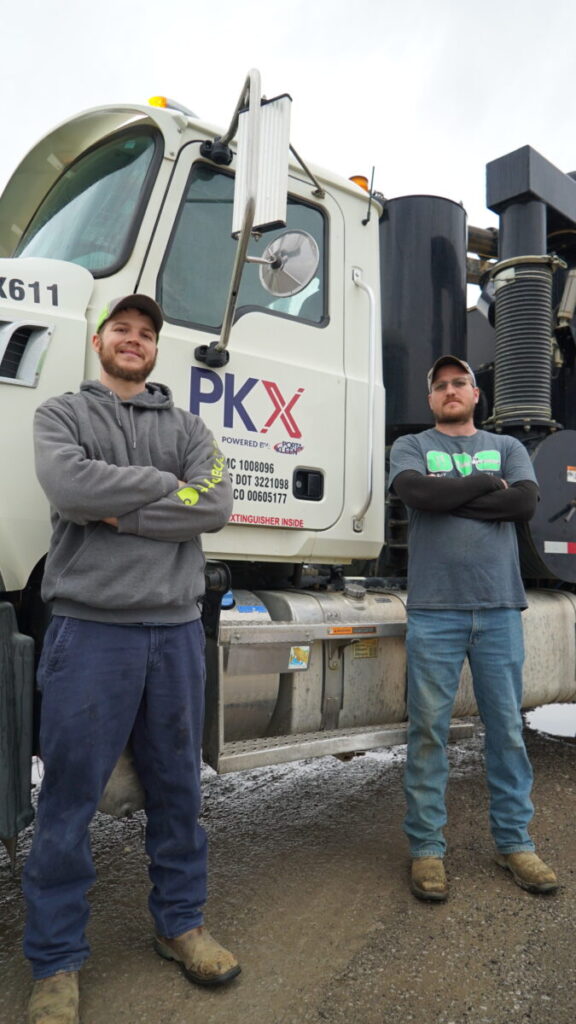 It took 45 minutes to an hour to remove Paul—who was conscious during the entire ordeal—from the trench. "We were able to get the top half of his body exposed fairly quick, but then it was trying to get him comfortable and see what all he needed so the EMS was able to get down in there," Cooper said. "We were right up on his back with the vacuum trying to get the dirt away from him."
"The guy would've died if we weren't there," Glenn said. One of the excavation company's employees was also important to the rescue.
PKX Branch Manager Joel Tallman said Paul suffered a shattered pelvis, two broken legs, a couple broken ribs and a broken collar bone. "He's had plates put in his hip," Tallman said. "They said his career is over, he'll probably never work again."
Tallman said the incident was easily preventable with the proper safety precautions. In fact, days earlier PKX Operator Wyatt Dickson pointed out the potential cave-in danger to Paul, who chose to ignore him. Dickson reported the situation as a safety observation in January.
"Our guys are doing a great job out there identifying these hazards and seeing these guys who are being unsafe and making a note of it," Tallman said. "I know Wyatt approached Paul and said something. It's one thing to say, hey, I saw some guys doing something unsafe, but to take it a step further and approach the guy—it's difficult to do."
Cooper said the experience was a definite reality check. "I've seen cave-ins and I have four kids and a wife at home," he said. "My main goal every day is to get back to them."