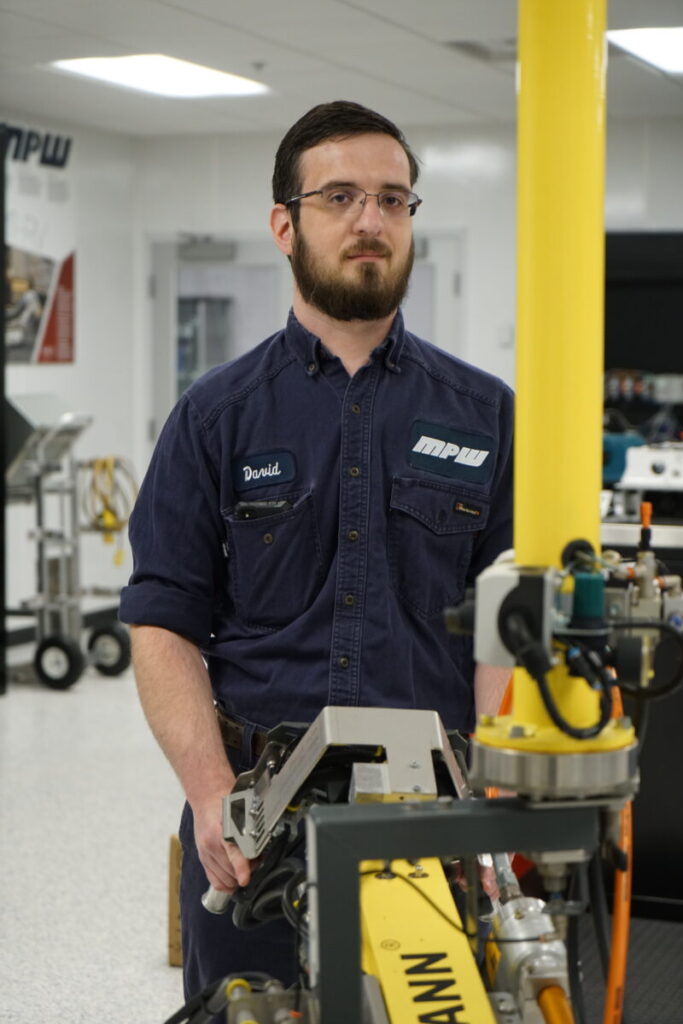 In a company as diverse in people and professions as MPW, it's easy for all employees to settle into their immediate surroundings and lose touch with what other departments do on a regular basis, even on the same campus. Per reader request to focus more upon all MPW employees, sometimes all we need to bridge this gap is to experience 'A Day in the Life' through our co-workers' eyes.
No electronics were safe around Mechanical Systems Engineer David Ford as a child. "I was the kid who tore apart the radio and put it back together with extra parts left over at the end," he said. "The radio still worked—most of the time." Ford said his parents always encouraged him to "fiddle" with devices. Combine that experience with a love of science-fiction and video games involving robots, and it's no surprise Ford found himself working in MPW's Engineering and Technology Department.
Ford spends a typical day working on projects for Industrial Services, Porta-Kleen and PPS. "They range from getting spare parts designed and manufactured in-house for time and cost savings to working on new tooling design and large scale projects," he said. These projects include customer blast booths and a 10k to 20k water jetting upgrade. Ford also works details, such as concept and budgeting, designing, CAD modeling, part sourcing, shop support and build, testing and troubleshooting and arranging shipping.
"Some of my time is spent working with the shop on the CNC equipment to expand what we can do," Ford said. The department currently has a CNC (computer numerical control) router table, plasma table, mill and a lathe. "These play a large role with our cost reduction and our ability to rapid prototype," he said.
Ford and the engineering team assist warehouse and field personnel with "hot jobs," or those last-minute jobs needing to be completed in one to four days to complete a project, and they provide field support for technical help during new and large jobs.
Ford has many opportunities to explore his interest in robotics. He said the engineering department's Toyota Blast Booth uses two Fanuc robots and the department converted mini-excavators to remote controlled units for water jetting.
"Most of my designs for tooling revolve around pneumatics and hydraulics," Ford said, "which are less prone to issues with the harsh environments we put them in. We are doing more with computer controlled items as we move forward with more truly automated jobs."
The Engineering and Technology Department does many non-robotic jobs as well, such as custom fittings, end-of-arm tooling and mounts. "That sky is the limit," Ford said. "The people out in the field run into a wide range of different scenarios where they need a customized item to get a job done."
Ford is grateful management continues to invest in more CNC equipment. "It has drastically changed how I approach my job since I started a little over five years ago," he said. "It opened up new possibilities on what we could design, and it cut the time from design to a completed part from days to hours."
Ford admits, though, that his career hasn't yet allowed him to explore all his childhood interests. "As a kid, I always dreamed of going into space," he said. "It's still on my bucket list."