Nearly 200 of MPW's 3,000+ employees have current or past involvement with a branch of the U.S. Armed Forces. In this two-part series leading up to Veterans Day on November 11, The Leader will examine why MPW is a comfortable second home for these individuals and examine core concepts that these establishments have in common.
John Juarez
After 17 years in the U.S. Navy and six years with MPW, John Juarez is ready for anything.
Juarez, a Field Service Technician for MPW's Industrial Water Division, said the company's emergency-response philosophy mirrors what he learned in the Navy.
"Field services personnel get called onto a lot of last-minute emergency jobs," he said. "We know how to deal with the urgency of getting the job done no matter what time of day someone calls you. That's what we do. We're a 24/7 company that's there for the customer. The concept of emergency response is very similar in the military and the Industrial Water Division."
Juarez said the Armed Forces' emphasis on instilling a strong work ethic makes former military personnel valued targets for growing companies.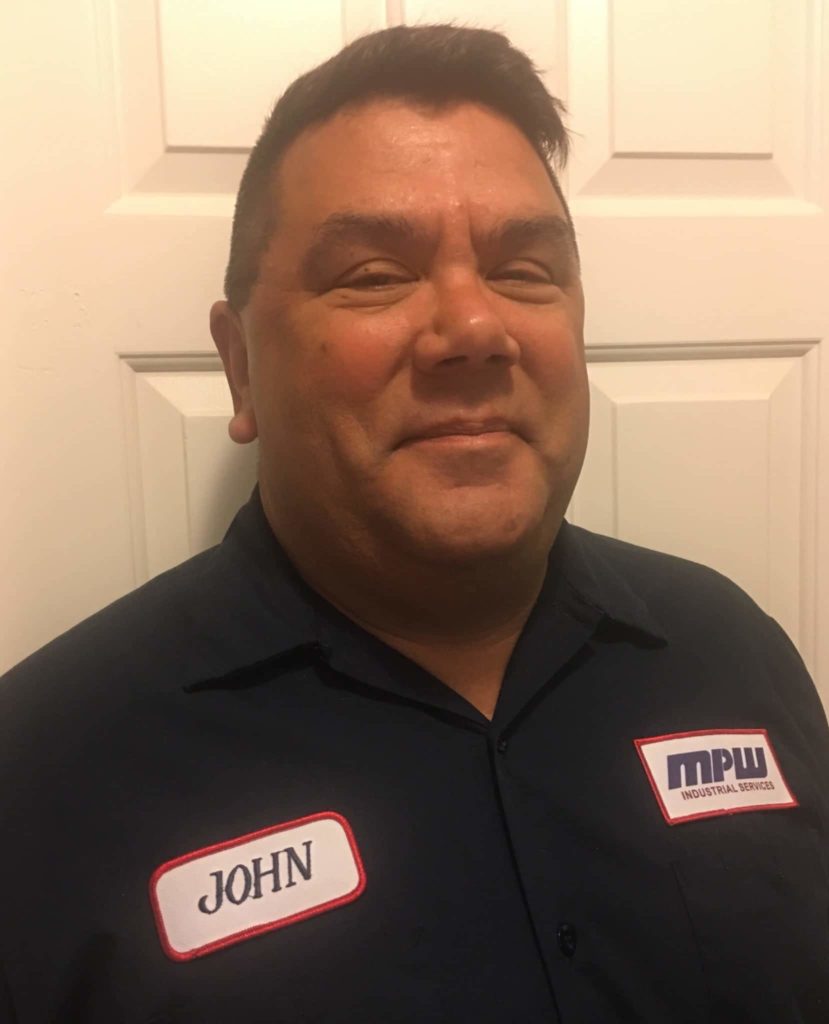 "MPW has always recognized the emphasis military personnel have on completing the mission. I think Monte Black understands that as a veteran," Juarez said.
Black, MPW's Chairman and CEO, is a U.S. Air Force veteran. In 1972, Black graduated from the 3709 Squadron of the U.S. Air Force at Lackland Air Force Base in San Antonio, Texas. Later the same year, Black founded what is now MPW.
As for Juarez, he never doubted he would follow in the footsteps of his father, who spent his entire career in the Navy. After graduating high school in Pensacola, Florida, Juarez decided to take advantage of the Navy's opportunities to travel and learn practical skills.
As a Hull Maintenance Technician, Juarez acquired specializations including welding, working with sheet metal and firefighting. Juarez said he valued the Navy's leadership courses, particularly a monthlong instructor-led training class on topics including public speaking, curriculum development, training-aid development and testing procedures. That class motivated Juarez to begin a six-year stint as a Naval Instructor stationed in Panama.
Juarez, fluent in Spanish after following his father to posts in Chile and Venezuela and then taking high school classes on the language, taught courses in his specialization areas and eventually qualified as a Master Training Specialist.
Although Juarez's original plan was to stay in the Navy for four years, he ended up accepting an early retirement after 17 years as a Hull Maintenance Technician Petty Officer First Class (E-6).
"I really enjoyed my time in the Navy. I still miss the camaraderie," Juarez said.
After his retirement, Juarez lived in Pensacola (where he still resides) and sought work in an industry that would allow him to utilize his Navy expertise. After landing some welding jobs, he learned about the industrial water sector and eventually worked for GE's industrial water group.
"GE was a good company, but they required a lot of travel," Juarez said. "Being in the industry, I learned a bit about MPW and was intrigued, so I applied and interviewed. Nothing happened for a while, but then, out of the blue, Jared Black called me and said they had a job that might be a good fit for me. Jared had remembered my resume from a few years prior. Six years later and I'm still going strong here!"
Juarez's territory includes IW's Midwest region, although he has supported jobs in the Gulf Coast and Southeast regions, as well as in Canada.
Mitch Bruns, MPW's Director of Field Services for IW, said Juarez is a model Field Service Technician.
"He's experienced, organized and knowledgeable," Bruns said. "He communicates well to clients and co-workers and demonstrates excellent customer-relation skills. We have total confidence he can handle whatever comes his way.
"Field service is a good fit for people with military backgrounds because of their experience with quick-response situations. Attention to detail is another important trait of military people. They attack problems in an efficient manner. Field service techs have to work independently and have good organizational skills. They also have to be self driven and rely on their training. John does all of those things extremely effectively."
Bill Hayes
The U.S. Armed Forces include more than the Army, Navy, Air Force, Marines and Coast Guard.
The Ohio National Guard (ONG) is another military resource, providing engineering support, equipment and resource maintenance and other reserve services in times of need.
MPW Technical Trainer Bill Hayes has been an ONG member for more than 17 years. Motivated to serve his country after the terrorist attacks against the U.S. on September 11, 2001, Hayes wanted to enter the military the quickest way possible.
"I always wanted to be in the military when I was in high school," Hayes said. "I was close to joining the Marines. Both my grandfathers served in World War II. My father was in the Naval Academy and served in Vietnam. I also had an uncle who was killed in Vietnam."
But after speaking with recruiters, Hayes learned the fastest way to begin his service was as an engineer in the Ohio Army National Guard. (The ONG also includes the Ohio Air National Guard).
Hayes said his National Guard duties go beyond the standard one weekend per month and two weeks per year.
"First, when you join the guard, you go through the same basic training as enrollees for the regular military branches," Hayes said. "Then, there's always extra training and sometimes stateside emergency missions."
Hayes found his way to MPW in 2017 when his ONG Squad Leader and then-MPW Technical Trainer Justin Keyser volunteered for active duty and was assigned to Korea. Keyser then referred Hayes as his replacement.
Coincidentally, Hayes' official MPW date of hire was September 11.
The Technical Trainer role at MPW concentrates on Confined Space Rescue, but Hayes also handles personnel-training requirements and supports the FEM Division.
Hayes said discipline is the skill he learned in the ONG that has been the most relevant to his professional career.
"In all parts of the military, you have to think on your feet and learn attention to detail," Hayes said. "And the military definitely teaches you when to shut up and listen.
"Then there are the specific abilities I had before I came to MPW. I had training in HAZMAT, search and rescue and confined space that directly apply to what I'm doing now. The Army also preaches safety constantly."
Hayes said these common values help explain why former and current military personnel comprise a significant portion of MPW associates.
"You can tell by looking at MPW workers that the company emphasizes professionalism," he said. "MPW uniforms have American flags on the sleeves, and the people are clean shaven. It all looks familiar to military people."
MPW Training & Development Manager Matt Dawson — a retired Colonel in the U.S. Army — said Hayes displays excellent follow-through on MPW projects.
"He's dependable and has a lot of self-discipline to meet commitments," Dawson said. "If Bill says, 'I got it,' then you don't have to worry about it. He's learned a lot of skills in the National Guard, but Bill is also Bill. He's a good person and good at his job regardless of military experience."