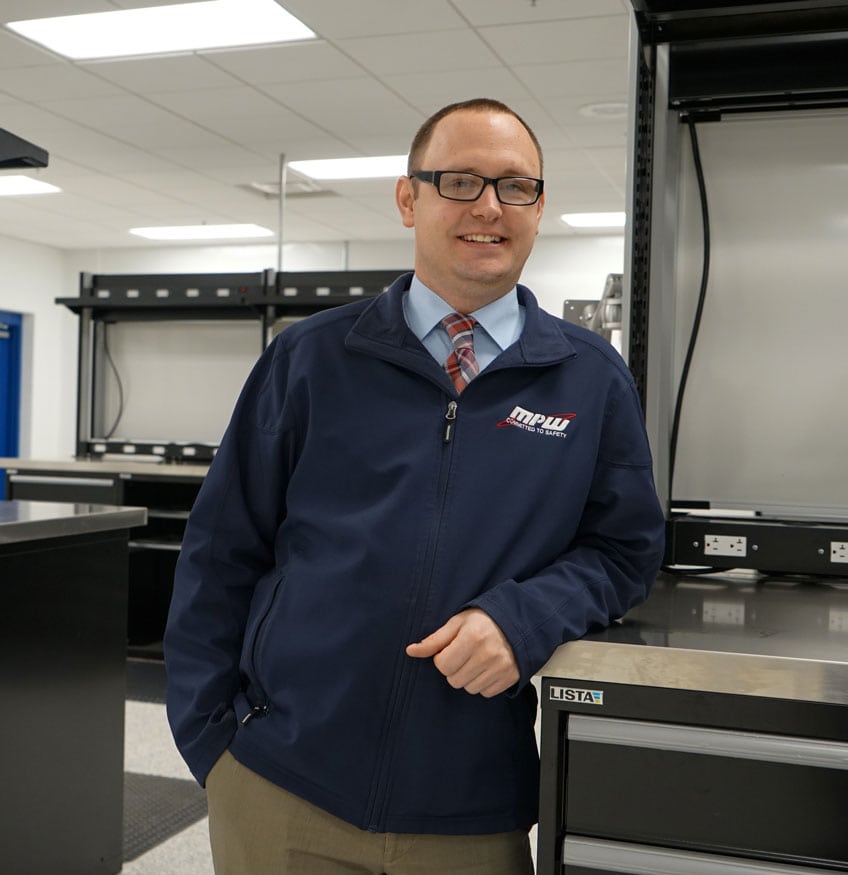 As part of our regular Staff Profile Series, we recently interviewed Justin Pierce, Director of Engineering & Manufacturing at MPW Industrial Services. Having worked with the MPW team his entire career, Justin has been a key player in advancing the company's engineering department.
How did you get your start with MPW?
I actually started at MPW as an intern and essentially never left. I was recruited by the company in 2006, and at that point, I was a senior in college pursing my bachelor's degree in engineering management and business. I only had a few classes left, so I was hesitant to take six months off for the internship but thought the experience would be extremely valuable as I started my career.
When it came time to return to school and finish my degree, I ended up staying on full time at MPW. I moved to Lancaster, commuted to school, and continued to work for MPW Monday, Wednesday, Friday and Saturday, while taking my courses Tuesday and Thursday through graduation in spring 2007.
What did you like about the internship that made you want to stay on?
At the time, MPW only had one other engineer on campus so it didn't take long to get heavily involved. I started my internship with MPW's Industrial Water Division when they were rolling out their equipment sector. I latched onto that and was lucky to come on board when there were new opportunities starting. I got involved in heavy design and manufacturing and even touched the customer side of things right away. I would say I was thrown into the fire as intern, but I loved the work and excelled at what I was doing.
You've been with MPW your whole career – how has your position changed since you first started?
I've been given a lot of great opportunities since starting with MPW, but most of them were a direct result of the company's growth. As I mentioned, when I started, I was the second engineer on campus, but after about a year, the primary engineer who was with MPW before me decided to move and take on a different role within the company in Florida. For a while, I became the go-to team member for engineering support on campus. Then, over the course of 10 years, our team experienced tremendous growth, expanding from a handful of engineers to about 30.
During that same timeframe as a company, we also expanded production personnel by over 400 percent and enhanced our production facilities in both 2009 and 2017 (when we officially opened the new Technology Center). We quickly became leaders in industrial water equipment manufacturing, rivalling both General Electrical and Siemens. These critical growth points left me well suited to pursue further advancement.
When I started, I was working on one or two jobs here or there. I helped with design, construction, installation, etc. Today, I lead engineering teams company wide and oversee all production and inventory functions. I interact at all levels of the organization to provide support to all business units. From sales support to troubleshooting site-level problems to developing innovative solutions, my teams are engaged to support business needs.
What do you like about your job?
Two main things.
First, as an engineer, I really enjoy the diversity in our products/services and the industries that we serve. From automotive to power gen to steel manufacturing – you get exposed to a lot of different projects and experiences.
For any company, the challenge is always going to be expand the business, but growing your own professional experience is really just as important and MPW provides that opportunity. When you look at a lot of engineers who work in other manufacturing jobs, they are very product focused and are often working on the same project day in and day out. Our work is not as templated, which is what makes it exciting.
Second, I've always loved that MPW is family owned and operated. The entire leadership team is extremely engaged with employees and encourages everyone to forge their own career path. They've also fostered an entrepreneurial spirit within the company – however you see your future taking shape, you can easily make that a reality.
Why do customers like working with MPW?
I would say our flexibility and customization are two key areas that customers really appreciate – especially from an engineering perspective. Many of our competitors have a cookie-cutter approach to engineering, whereas we take time to ensure the product is really what the customer needs. In addition, our customer service is truly second to none. We have a great team that is dedicated to getting the customer what they need, and that's engrained in everything we do.
What do you like to do outside of work?
Outside of work I still enjoy working in the garage, building cars and motorsports.
I'm very much a gear-head. Growing up in Zanesville Ohio and my father ran his own repair facility, so I was basically raised turning wrenches. I continued to work as an automotive mechanic throughout high school and college. It's safe to say these experiences are what led me to choose engineering as a career path.
How do you see the company progressing in the years to come?
We continue to develop and implement new technology. We operate at a very fast pace and aren't afraid to take chances. I believe these attributes are what will continue to foster growth and expand MPW's presence.