In a company as diverse as MPW in people and professions, it's easy for all employees to settle into their immediate surroundings and lose touch with what other departments do on a regular basis, even on the same campus. Per reader request to focus more upon all MPW employees, sometimes all we need to bridge this gap is to experience 'A Day in the Life' through our co-workers' eyes.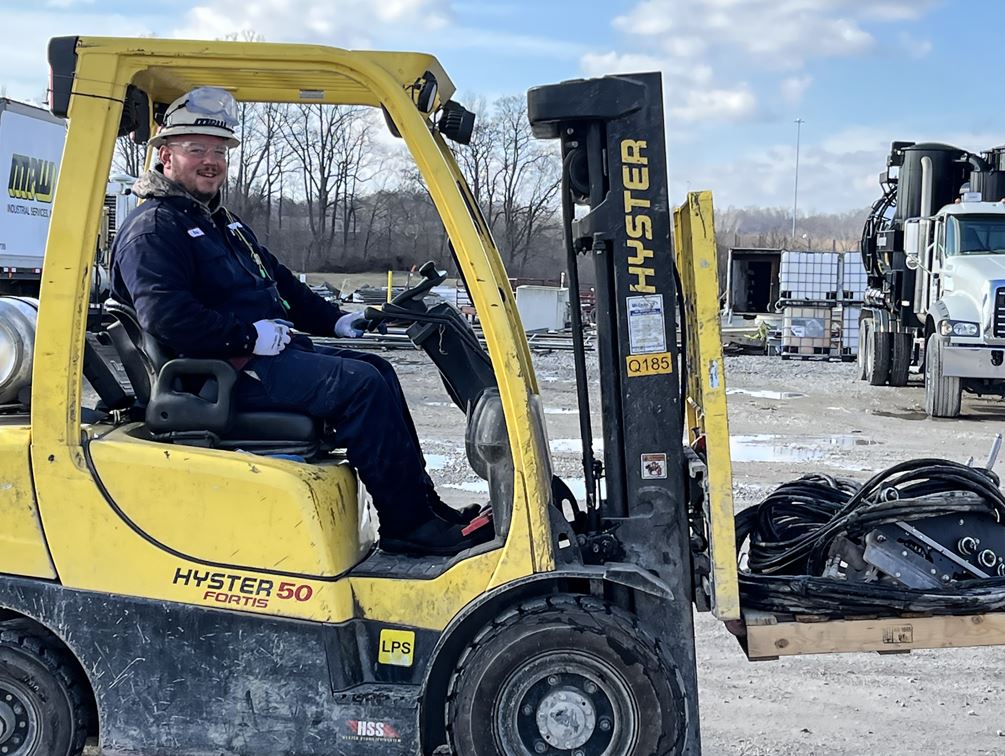 It's a busy job. At any point in the day, Operator Ray Ratcliff may be operating a vacuum truck, running or monitoring a water blaster, or any one of dozens of other jobs at a work site. "Every day is a learning experience and there is always room for improvements," he said. "An operator makes sure the truck and pumps are running and are in good working order."
Ratcliff works the majority of the time at one of our polymer-producing customers where they do a lot of water jetting work, particularly lancing lines. As the lines build up with polymer material the operator is responsible to engage and monitor the pump and adjust the pressure. This customer site also has plenty of trenchwork, where they vacuum out troughs and trenches. Ratcliff operates the vac truck and offloads the material to an onsite disposal location.
Ratcliff said first and foremost an operator makes a full 360 degree walk around the truck to make sure there is nothing in the way of what is being pulled or moving and to ensure that nothing is broken, and everything is in proper working order. "I became interested in the job because I like to push myself to learn new things," Ratcliff said. "Becoming an operator has given me the chance to learn more about semis and vac trucks. I've also learned to use water blasters, which I didn't know about prior to being an operator."
Three main qualities are needed to be an operator, Ratcliff said. First, is a CDL. "There's an onsite operator and there's an over the road operator," he said. "If you want to be an over the road operator on a DOT road you need to have a Class A or Class B CDL depending on what vehicle you drive."
Next, an operator needs not only an understanding of certain pieces of MPW equipment, but all pieces of MPW equipment—vac trucks, water blasters, Bobcats, roll-off trucks and many others. "So, you have to have a mechanical understanding of how things work," Ratcliff said. And, an operator must be a troubleshooter. "How to troubleshoot is one of the big things an operator has to do," Ratcliff said. "I can guarantee you that every job you go on there's going to be something small you have to do."
Thirdly, an operator must be willing to learn new things, adapt to new situations, and improvise through unusual circumstances. "A lot of that you learn over time," Ratcliff said. "The majority of people don't come in here trained with that. It's more of a learning process." He said an operator could start the day on a vacuum truck, end it on a water blaster or be between each one of them many different times before the shift ends.
"Safety is a big factor in what we do on our day to day jobs," Ratcliff said. "You never know what jobs you are going to do, what the hazard of the job is going to be or the material until you start asking questions. It's important to raise concerns to learn more about the job you are doing for that day." He said there should always be a safety talk at the beginning of the morning to discuss all the safety concerns someone might have.
Finally, an operator is the main line of defense if someone were to get a body part stuck in the end of a vacuum truck's hose, which can cause serious injury and even a fatality. Should there be an incident, the Safety T would be pulled to release the vacuum and then the operator could shut down the truck. In a true emergency, the operator could shut down operations as soon as there are any indications of danger.
"The operator can stop the vacuum instantaneously to make sure that individual has no more harm done to him," Ratcliff said. "You have to be your brother's keeper and make sure to watch out for everyone working with you to ensure they get home as safely as they come in."