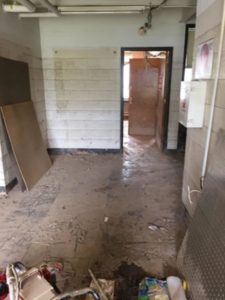 MPW Industrial Services donated a crew to help clean up a business in Elkview, West Virginia that had been decimated by a flood in June.
MPW Crew Leaders Mark Gaudio and Jonathan Vantilburg and Field Technicians Travis Ernes, Codie Mosti and Scott Roman helped clean up Wally's ROPE, Inc., on August 12. The crew is based out of ICG's Steubenville, Ohio branch.
In late June, floods killed 23 people and destroyed 1,200 homes in West Virginia. Nine feet of water filled the store, which stands about 100 yards from the Elk River, destroying nearly all of its inventory. The store's owner also lost his house in the flood.
Williams Energy, an MPW customer, sent employees to help clean up the store because many of Williams' workers live near Elkview.
MPW's crew improved the condition of the store by stripping ruined materials and moving trash to dumpsters.  
"It was a good chance for MPW to give back to the community and help Williams," Gaudio said. "I'm proud as an MPW employee to have been able to help out."
MPW also donated two pallets (3,744 bottles) of bottled water, to the town, which is located about 12 miles from Charleston.