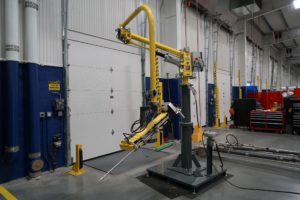 MPW's stainless steel blast booth is designed specifically for industrial coatings removal in the cleaning process. Built to contain messy water blast
and overspray, the temperature-controlled blast booth is equipped with circulating air filtration to increase visibility and also filter and remove
steam.
Carbon filtration for treating waste water, a centrifuge to remove and collect debris and a PLC-controlled system that reuses 50 percent of the supply water reduces customers' water cost, waste and downtime.