In a company as diverse in people and professions as MPW, it's easy for all employees to settle into their immediate surroundings and lose touch with what other departments do on a regular basis, even on the same campus. Per reader request to focus more upon all MPW employees, sometimes all we need to bridge this gap is to experience 'A Day in the Life' through our co-workers' eyes.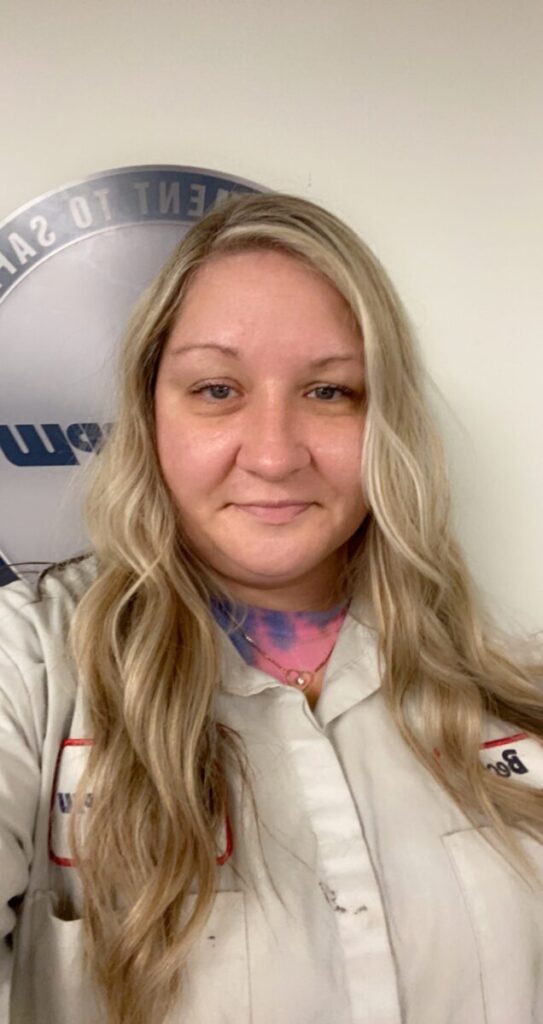 The entire time Rebecca Cabell was the water blasting supervisor at Honda Manufacturing of Indiana she dreamed of working in an office. Through great determination and a willingness to learn new things, she reached her goal and became operations manager early last year.
"I became interested in operations from watching my previous boss in this position," Cabell said. "I wanted to work in an office since the day I started as a technician," Cabell said. She remembers walking past the office to her booth, eager to learn the business side of MPW.
"I was patient and signed up for anything new I could be trained on," Cabell said. "I wanted to learn it all. Now, while I'm nowhere near knowing it all, I'm really enjoying everything new I learn every day."
As operations manager Cabell quotes and sets up projects, ensures her team's job quality and handles incident reviews. In addition, Cabell performs coaching training with her teams, prepares scope of work for jobs, performs data tracking for water blasting and many other duties. "I'm sure I'm forgetting some things, but this is the gist of it, I believe," she said.
"I don't know that there is a typical day for me," Cabell said. "It all just depends on what day of the week it is." She described a recent Friday. "I came in and checked my emails and checked over the pass downs from the night before to make sure I hadn't missed anything, and everything got done," Cabell said. She then moved on to a couple of quotes that were due for some projects and one blanket quote.
"I worked on those quotes for a few hours, because one of them was big and I wanted to make sure it was accurate," Cabell said. Next, were safety audits. "I updated my safety form for the board, and then went out and updated the boards," she said.
Lunch fit in there somewhere, followed by beginning a standard operating procedure for Honda's new Barrel Process. "Before I knew it, it was time to go," Cabell said. "I grabbed my computer and backpack and headed home."
Things change daily and an operations manager must be willing to roll with those changes. "I enjoy the challenge the most," Cabell said. "But I also love how every day is different—a different learning opportunity and a different challenge. It gives me purpose and a huge feeling of accomplishment."
Cabell said the best advice she could give to anyone aspiring to be an operations manager is to remember that no-one can know everything on the first day, and that's fine. "I also believe for me, starting out as a technician and moving up to management helps other MPW associates see that anything is possible here," she said. "It helps to motivate them to continue to reach and strive for their goals."
It's also important to remember nothing is accomplished in a vacuum. "Without my team, my job wouldn't be possible," Cabell said. "I use their feedback, questions and concerns to help me do my job daily. I think that's what it takes to make a great company."